Vintages and vines: The 10 best wineries in Hood River Oregon
Award-winning vintages, sun-soaked valleys and sprawling vineyards with mountain views are just a few of the things that make the wineries in Hood River, Oregon so special.
The arid landscape and favorable weather in the Columbia River Gorge creates ideal growing conditions for grapes like fantastic Pinot Noirs, aided by dramatic rainfalls and the high elevation which helps produce a whole world of wines.
You won't find any pretentious spots around here (we're looking at you, Napa Valley). Instead, people around these parts love to spend a day hiking to waterfalls or playing on the water, then heading straight over to one of the wineries near Hood River to enjoy a bottle of robust red surrounded by the vines.
From Italian-inspired tasting rooms to spectacular views, here are 10 of the best Hood River wineries.
With views of Mount Adams from the deck, a beautiful tasting room and the lavender field next door, one could be forgiven for spending more time snapping photos here than actually tasting wine. This Hood River winery started as a family farm producing apples and pears a century ago, and the first block of Pinot Noir was planted in 2012.
Stave & Stone now produces Chardonnay, Pinot Gris and Pinot Noir, which pair well with the artisan cheese boards you can nosh on while playing lawn games like Connect Four on the balcony. If you visit in June or July, be sure to visit the neighbouring Hood River Lavender farm.
You'll feel like you've been transported to the Italian countryside the second you pull up to the Tuscan-style tasting room at Marchesi Vineyards, just west of Hood River. Italian varietals like the Sangiovese and Primitivo are excellent, and pair beautifully with Marchesi's charcuterie boards. This is a favorite hangout spot of Hood River locals, who come for the great ambiance, fantastic wines and friendly service.
If you head up to the counter for a tasting flight, be sure to sample the to-die-for olive oil and focaccia bread samples.
Come for the wine, stay for the pizza at this fun spot just north of town near the airfield. Order a bottle of robust red to pair with one of their handcrafted, wood-fired pizzas, and have dinner outside surrounded by the vineyards. If you visit on the weekend, you'll also get to enjoy live music.
Hood Crest Winery has a distillery on site, which bottles the likes of cherry vodka, sangiovese brandy and apple cordial.
The vineyard beside Phelps Creek Vineyards was founded back in 1986, when local winemaker Rich Cushman planted Riesling along Country Club Road which is a quick drive from downtown along the highway.
The beautiful tasting room was built in 2011 for Cushman's winery Viento, which has since changed hands and is now home to Phelps Creek Vineyards. There are high vaulted ceilings and huge windows overlooking the vineyard, as well as a few picnic tables outside surrounded by woods which are a great place to soak up the sunshine.

This working farm in the Hood River Valley focuses on biodynamics and permaculture, and the country concept flows into the spacious, bright tasting room. The long wooden tables have plenty of space for your group to spread out while sipping their varietals, and the large windows look out to the surrounding vineyards and foliage.
Located right off the highway, this is one of the most laid-back Hood River vineyards, with plenty of hangout spots around the property. Play a game of bocce, relax on the outdoor patio, even bring your dogs and kids into the tasting room. This family-run operation grows Pinot Noir, Chardonnay and Pinot Gris grapes which are used in their award-winning wines, and there are plenty of quirky touches to check out including sculptures of giraffes and Easter Island Moai replicas.
Great for a midday stop during your Hood River wine tasting tour, The Gorge White House has so many things for the whole family to do that you could easily spend the whole day here.
The property is built around a 1908 Dutch Colonial home along the Mount Hood Scenic Byway, where overflowing orchards and gardens produce strawberries, blueberries, raspberries, blackberries, apples, cherries, peaches, pears and nectarines. Take advantage of their U-Pick option to take some home, or sample it in their fruit ciders and Heritage Bosc Pear wine in the on-site tasting room.
Sip a crisp Pinot Gris or blush Rosé under the shade of an oak tree, wander through the fields of flowers, then fill up on what just might be the best burger in the Columbia Gorge at their fresh food cart.
Mt Hood Winery is ranked among the best wineries in Hood River, even being named as Oregon's Winery of the Year in 2016 thanks to its acres of estate vineyards, spacious tasting room and wine production facility in the Hood River Valley. Vintages are produced on the century-old fruit growing farm, which has great views of Mt Hood. Walk through the vines, tour the bottling facility to learn more about the winemaking process, then head into the beautiful tasting room to sample their award-winning wines.
This special spot is technically closer to Parkdale than Hood River, but deserves a mention since it's such a crowd pleaser. The mountain views here are unbeatable, and the airy tasting room has plenty of space for gathering around the bar and sampling beer or the ciders made from the surrounding orchards that Grateful Vineyard is best known for.
While they don't currently produce wine, they've partnered with Elk Cove Vineyard in the Willamette Valley to serve wines under the Grateful Vineyard label. Grab a glass then head outside to enjoy the jaw-dropping view of Mt Hood, or tuck into one of their famous pizzas. This spot is also a great outing for families wanting to explore wine country in Oregon, since there's a kids playground on site and plenty of room to run around.
Grab a glass of chilled Riesling or the honeysuckle-infused Necessity White from the tasting room, then head outside and kick off your shoes to feel the lush lawn under your feet as you explore the pretty property which is surrounded by towering oaks. Named after a ridge on the northwest side of Mt. Hood, Cathedral Ridge Winery is one of the most awarded wineries in Hood River, with more than 25 wines to choose from.
Craft your own flight of six wines, or up your experience by booking their Barrel Tasting Immersion package where you can sip four varietals straight from the barrel.
Hood River wineries map
How to book a Hood River winery tour
Most wineries in Hood River charge $15 per tasting, and the fee is waived with the purchase of one or two bottles. There are a few different options for wine tasting in Hood River, including the Evoke Winery, Cerulean Winery and The Pines 1852 tasting rooms downtown along Oak Street.
Saddle up and sip during a horseback ride with Double Mountain Horse Ranch, as you enjoy views of Mt. Hood and Mount Adams while touring the best wineries in Hood River.
YOU MIGHT ALSO LIKE:
PIN TO SHARE: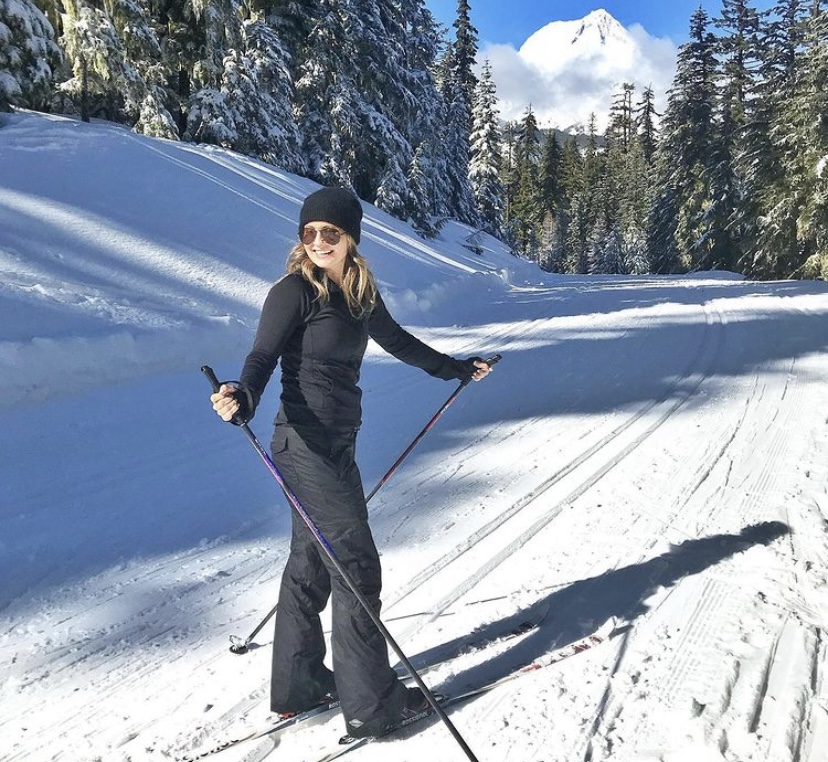 Tamara Elliott is the travel editor and founder of The Gorge Guide, which highlights the best experiences in the Columbia River Gorge. She's an award-winning writer based in Hood River, Oregon, who particularly loves the area wineries and waterfall hikes. Tamara is also the founder of Globe Guide, which offers savvy tips for exploring destinations around the world.