Pocket Creek: Snowshoeing and cross country skiing on Mt Hood
After a big snowfall, Pocket Creek is one of the best places to go snowshoeing or cross country skiing on Mt Hood, Oregon.
This scenic spot has both beginner and intermediate trails, with most skiers opting for the 6.6 mile loop which has an elevation gain of 570 feet. There's also a trail that links up with the Teacup Lake system, which is a good option for advanced skiers wanting to do an even longer route.
The Pocket Creek Trail
It takes about three hours to do the full loop on cross-country skis, which is absolutely incredible as you'll pass through the snow covered forest full of hemlock, cedar, white spruce and pines.
There are several creek crossings, including a section that passes over the East Fork of Hood River. Those visiting just after a big snowfall will likely find an impressive accumulation of it on the bridges.
While Pocket Creek Trail isn't groomed, snowmobiles are permitted which means they'll sometimes crush down the snowpack to make it more manageable. It's also a good option for families, since the trails are wide and you can turn around at any time to do an out-and-back versus the full loop.
The ascent to the top of the trail is rewarded with great views of Mt Hood (as long as it's not covered in clouds) and you can see the runs at the nearby Mt Hood Meadows Ski Resort. Chances are a flock of grey jays will be there to greet you, in hopes of getting a snack.
From the top, you can head back to the parking area the same way you came, or veer right and follow the blue diamond trail markers that line the loop route. The trail is considerably narrower here with some steeper hills, which makes heading back a blast for those who are more confident cross country skiing Mount Hood.
How to get to the Pocket Creek Sno-Park
Pocket Creek is a 90 minute drive from Portland, taking US-26 to Government Camp and connecting with Hwy 35. From Hood River, it's a half hour drive heading south on Hwy 35.
Tips for visiting Pocket Creek
Like most Oregon sno parks, visitors are required to have a valid Sno-Park permit from Nov. 1 through April 30.
This is one of the few Mt Hood snowshoe trails where dogs are allowed. Remember to pick up after your pets and keep them under control.
More options for snowshoeing or cross country skiing Mt Hood
If you're looking for more great Mt Hood cross country ski trails, nearby options include:
Trillium Lake: Boasting gorgeous views of Mt. Hood on the north side of the lake, the trailhead links up with the Trillium Lake Loop Trail which is shared by both snowshoers and cross-country skiers.
Mt. Hood Meadows Nordic Center: With 16.5 kilometers of trails, lessons and rentals on-site, everything you need for a day of fun on the snow is in one place. Located at the east end of the Hood River Meadows parking lot (not the lodge one), it operates from 9 am- 4 pm Thursday through Monday, and has both classic and skating striding lanes.
While snowshoeing is not permitted on those groomed trails, the Nordic Center marks the trailhead for the Sahalie Falls and Elk Meadows snowshoe trails.
Teacup Nordic Snow Park: Found just down the road from Mount Hood Meadows, Teacup is a popular spot with locals thanks to its 20 kilometers of trails groomed multiple times throughout the week. Runs range from beginner to advanced terrain, and its great views make this a great place for cross country skiing on Mt Hood.
PIN TO SHARE:
YOU MIGHT ALSO ENJOY: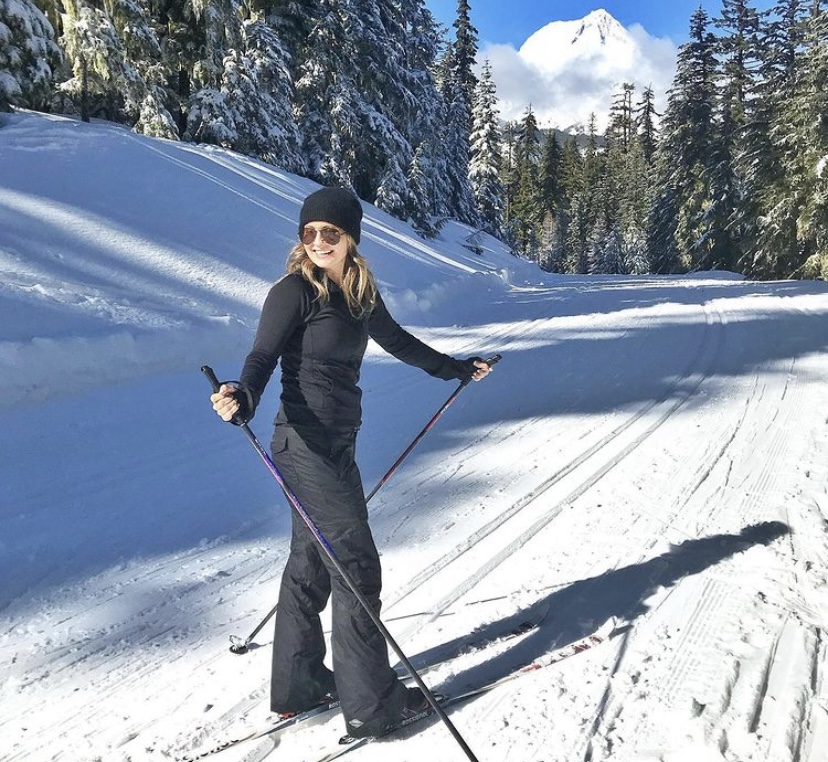 Tamara Elliott is the travel editor and founder of The Gorge Guide, which highlights the best experiences in the Columbia River Gorge. She's an award-winning writer based in Hood River, Oregon, who particularly loves the area wineries and waterfall hikes. Tamara is also the founder of Globe Guide, which offers savvy tips for exploring destinations around the world.