Visiting majestic Multnomah Falls in winter
Multnomah Falls in Oregon is one of the top attractions in the Columbia River Gorge, and for the lucky ones who time their visit just right to see Multnomah Falls in winter when it's surrounded by snow, the scene is unforgettable.
Since the area typically sees more rain than snow even in the colder months, it's not very often that this phenomenon happens so be sure to keep an eye on the forecast. If there's a big snowfall in Hood River or Portland, head to the falls before the snow starts to melt and you just might find a winter wonderland.
Multnomah Falls directions
The drive from Portland to Multnomah Falls heading east on I-84 takes about an hour, or 30 minutes from Hood River going west. The Multnomah Falls parking lot is a bit tricky because it's actually in the middle of the highway, so stay in the left lane as you approach the turnoff.
The cool thing is you can see the waterfall from the road, so even if you don't have time to stop be sure to take a peek back at the cliff as you speed past.
No matter which direction you're coming from the scenery is spectacular, and there are a number of other waterfalls to stop at along the way including a handful on the Historic Columbia River Highway which runs parallel to I-84. Here's a map of Multnomah Falls:
There's also a Multnomah Falls shuttle service called the Columbia Gorge Express, which connects Portland, Cascade Locks, Hood River and The Dalles.
How to visit Multnomah Falls in winter
Being one of Oregon's top attractions, the 620-feet tall falls can get incredibly busy in the summer months leading to crowded pathways and an overflowing parking lot. However, it's a much different experience in the winter when there aren't as many summer vacationers or people taking day trips from Portland, making it much easier to enjoy this natural wonder.
If you arrive just after a snowfall, bring winter gear like boots with good grip, warm layers, gloves and even hiking poles if you have them. Depending on what type of storm rolled in, some pathways can be covered in waist-deep snow!
How to hike Multnomah Falls in winter
There are a handful of Multnomah Falls trails, including:
Multnomah Falls Bridge: 0.2 miles
Wahkeena Trail 1.8 miles
Larch Mountain: 6.8 miles
However, most are closed during the winter because the terrain and steep drop offs are inaccessible and treacherous. It's still possible to make it up to the historic Benson Bridge; however what's normally a quick walk on a paved pathway becomes quite an adventure when it turns into what feels more like a ski hill!
It's incredibly slippery, so go very slowly and hold on to the chainlink fence when you get to it to keep from falling down into the gorge.
The frozen Multnomah Falls
Chances are you'll see at least a few pro photographers there to capture a Multnomah Falls winter scene, as it happens so rarely. It's easy to get the shot, since the first viewing platform that looks up to the waterfall and bridge is the best angle. However, the spray can wreak havoc on your lens so bring some sort of cover to protect your camera from the droplets.
If you've got a DSLR, slow down the shutter speed to capture Multnomah Falls frozen. A tripod also helps with this.
PIN TO SHARE:
YOU MIGHT ALSO ENJOY: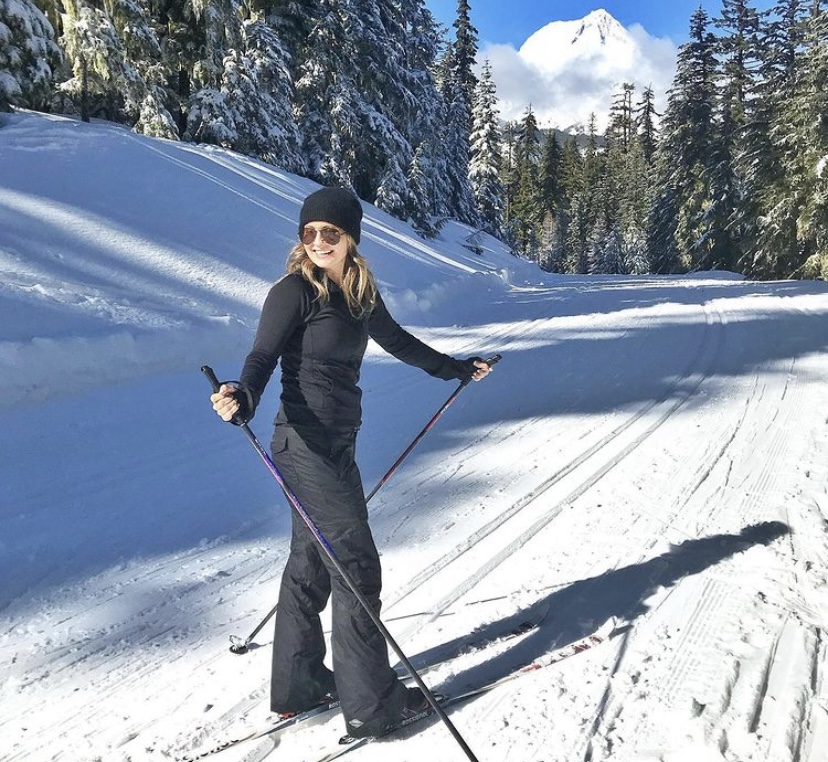 Tamara Elliott is the travel editor and founder of The Gorge Guide, which highlights the best experiences in the Columbia River Gorge. She's an award-winning writer based in Hood River, Oregon, who particularly loves the area wineries and waterfall hikes. Tamara is also the founder of Globe Guide, which offers savvy tips for exploring destinations around the world.