The best things to do in Hood River Oregon
The city of Hood River Oregon is at the heart of the Columbia River Gorge, and the gateway to outdoor adventures like mountain biking, hiking, SUP, skiing and snowboarding.
A wind sports Mecca for things like kitesurfing and foilboarding thanks to its perch on the windy Columbia River, it's the kind of place you can have a day of fun on the water or trails then enjoy happy hour at one of the award-winning Hood River wineries and breweries.
With some of the best Columbia Gorge waterfalls on its doorstep, Mt. Hood a short drive away and a quick trip across the bridge to get to Washington, Hood River is the perfect base for exploring the Gorge. It's particularly popular in the summer months, and as a day trip from Portland which is only one hour away.
From the top attractions in town to the best spots for activities like kayaking and e-biking, here are the best things to do in Hood River.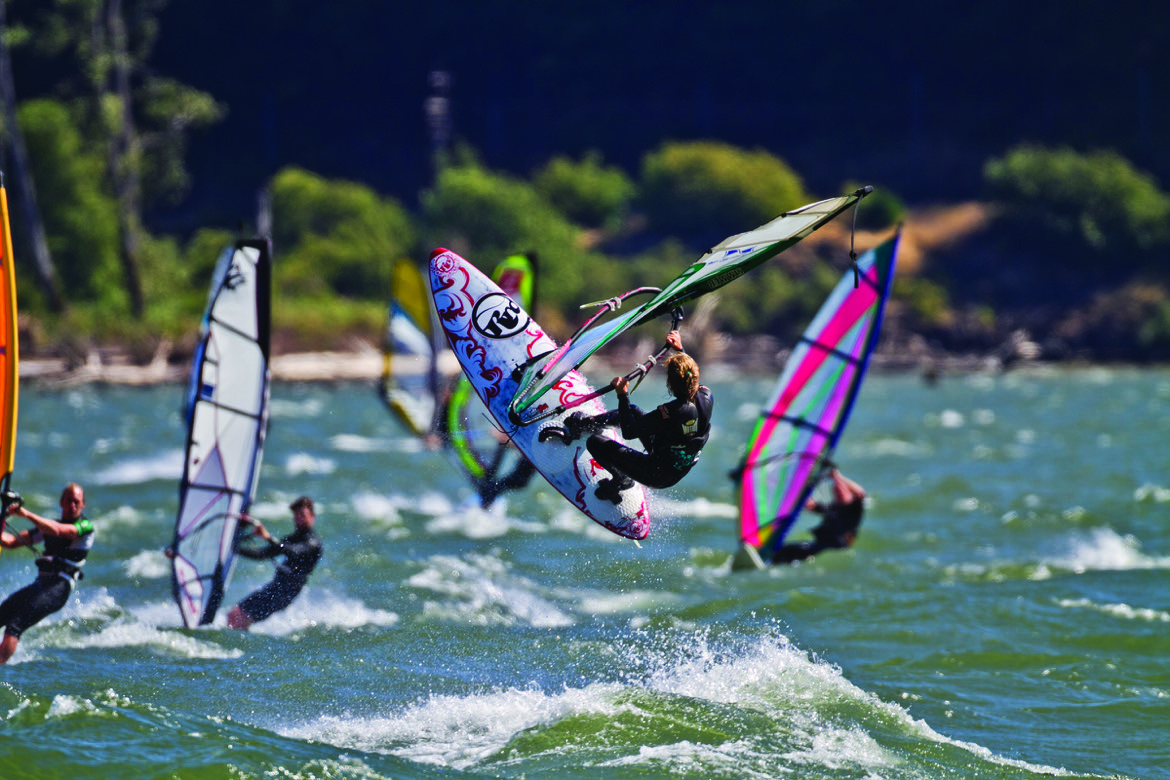 Explore downtown Hood River
From the Saturday farmers' market to the bustling shops to the lineup out the door at local favorite Mike's Ice Cream, downtown Hood River is the heart of the action.
Most of the attractions are found along Oak Street, a seven-block stretch of historic buildings housing the likes of art galleries, handicrafts from area artisans, clothing boutiques and stores selling outdoor gear worthy of a Gorge adventure. Check out Twiggs and Hood River Stationers for great home decor and gifts, The Ruddy Duck and Parts + Labour for clothing, and Doug's Hood River or Shortt Supply for gear.
Some of the best cafes, restaurants and pubs are here as well, including the Evoke Winery and Stave & Stone wine tasting rooms, 64 oz Taphouse and Oak Street Pub for beer lovers, and Whiskey Tango which is Hood River's one and only nightlife spot. Don't miss KickStand Coffee & Kitchen around the corner on State Street, which has a great outdoor patio and live music nights.
READ MORE: Java jolt: The best Hood River coffee shops
Take a hike near Hood River
Some great Gorge hikes are on Hood River's doorstep, such as Mitchell Point which is just a 10 minute from town and has incredible river views, or checking out the waterfalls in places like Starvation Creek State Park.
The serene Indian Creek Trail goes right through Hood River, passing spots like the golf course, high school, pear orchards and a historic wooden flume which once provided water to a fruit cannery.
Some of the best hikes near Hood River include:
Dog Mountain: The trailhead is about 30 minutes from Hood River on the Washington side, and is spectacular in spring when the wildflowers start blooming.
Tamanawas Falls: A good choice year round, since the well-marked, moderate trail is still accessible in winter. Just a 20 minute drive from the city, it has a gorgeous waterfall that turns into ice crystals once the snow falls.
Rowena Crest: Located just past the town of Mosier, Rowena Crest has one of the most incredible views of the Columbia Gorge and a roadside lookout point rivalling Arizona's famous Horseshoe Bend.
Lost Lake: A great choice for families, the flat, three-mile trail loops around this gorgeous alpine lake and has amazing views of Mt. Hood.
Tilly Jane Trail, Timberline and Cooper Spur: This trio of trails criss-cross Mt Hood, and also have good views of Mt Adams. Tilly Jane is the mildest, while Timberline can be quite a beast due to its river crossing over steep scree.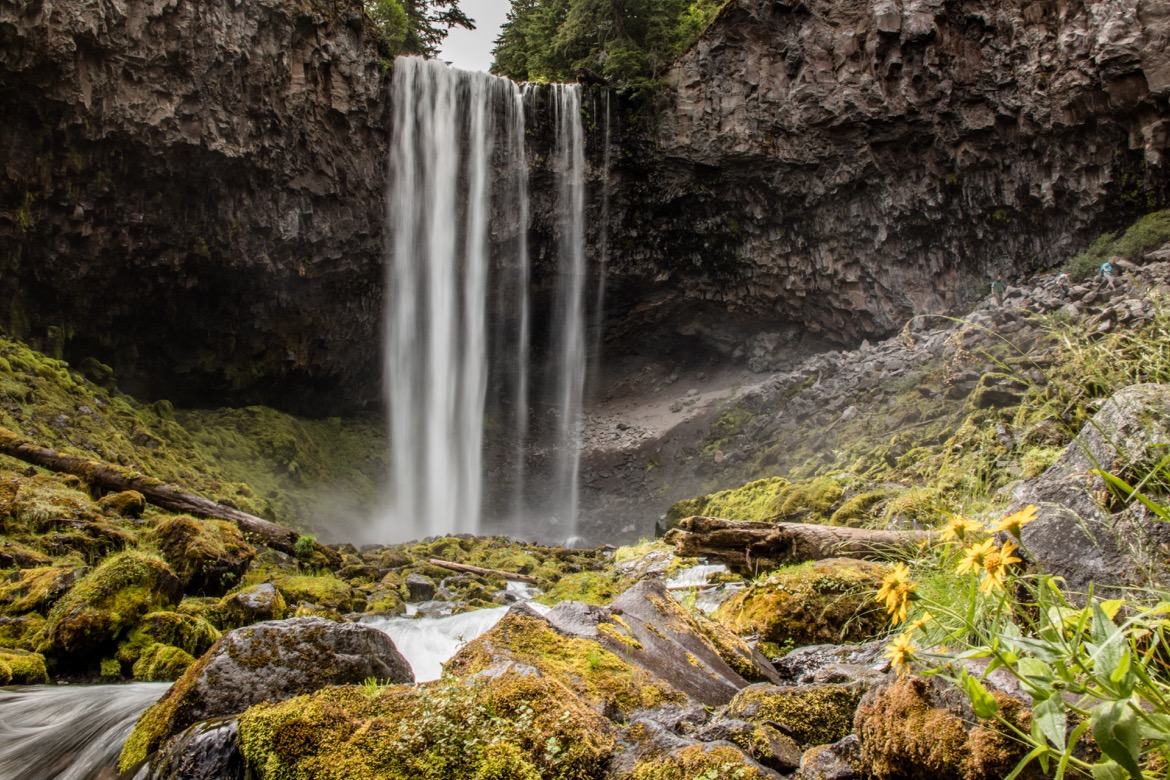 Hang out at the Hood River waterfront
No trip to Hood River is complete with spending time at the Columbia River, whether it's playing with the kids at Waterfront Park, walking along the boardwalk and watching the kiteboarders in action, or getting wet during your own adrenaline-fueled wind sports session.
The event site gets packed during the busy summer months, with colorful kites sprawled all along the beach as windsurfers and foil borders get ready for launch. To try it out yourself, book a lesson through a local operator like Big Winds, Cascade Kiteboarding or Gorge Kite.
SUP and kayaking are also popular things to do in Hood River, and there are a number of places to rent gear including at the waterfront by the Best Western Plus Hood River Inn on the east end of town by the marina.
Fill up on the Hood River Fruit Loop
This self-guided tour through the Gorge's agriculture region highlights two dozen local producers, and is one of the best things to do near Hood River for foodies.
From wineries to lavender fields to bountiful orchards to bustling fruit stands, there are so many great spots to stop at on this route around Mt Hood.
Local favorites include the Gorge White House which has wine tasting and a u-pick for things like fresh flowers and berries, Apple Valley Country Store which is famous for their fruit pies and jam, and Draper Girls Country Farm which has a great picnic area and a chance to visit with baby goats.
In spring, fruit trees transform the orchards with baby pink and white blossoms, from late June to July you can see purple lavender fields in full bloom, and fall harvest means grapes are bursting off the vine at vineyards like Hood Crest Winery and Stave & Stone Wine Estates. Driving the Hood River Fruit Loop is best to do in summer or fall, though many places are open throughout the year.
READ MORE: Oregon lavender farms in the Columbia River Gorge
Go mountain biking in Hood River
There are countless trail systems in and around the city, fit for all skill levels whether you want to tear up the terrain on a mountain bike or take a leisurely ride in the countryside on an e-bike. Some of the Hood River trails have sweeping views of the mountains, rivers and arid hillsides, while others like the Post Canyon trails are treed in by a thick forest.
The 17-mile Post Canyon system is one of the USA's original gravity networks, boasting nearly 3,400 feet of vertical descent and bermed turns. There's also a bike park with plenty of jumps for keeping the kids occupied.
Kids love ripping around at the Golden Eagle pump track located at the high school, and another family-friendly ride is the Mosier Twin Tunnels trail. The paved pathway links Hood River to the community of Mosier (which also has great wineries), and the half-hour ride has panoramic viewpoints overlooking the Columbia River.
READ MORE: The Mosier Twin Tunnels trail in Oregon
Ride the Mount Hood Railroad
The historic Mount Hood Railroad is one of the best Hood River attractions for kids, and a unique way to enjoy northern Oregon's scenery. The train leaves right out of downtown Hood River, and the one hour Hood River Valley Excursion has great mountain views while winding past orchards, vineyards and the river in the surrounding Columbia River Gorge.
If you're visiting Hood River during the holidays, book a seat on the Mt Hood Christmas Train experience which features dancing elves, Christmas lights and even a visit from Santa.
Visit the Hood River wineries and breweries
The Hood River breweries and vineyards are one of the area's top attractions, thanks to the award-winning craft beer scene and world class wineries. There are a handful of breweries in Hood River that have made quite the name for themselves, and are found either downtown or along the waterfront.
Top picks include pFriem Family Brewers which also has an excellent restaurant and tasting room, Full Sail Brewing Co., Ferment, and Double Mountain which has great beer, ciders and pizza.
There are more than a dozen wineries near Hood River, and even more for those who cross over into Washington to visit the vineyards in Lyle and Underwood.
Check out popular picks like Marchesi Vineyards and Cathedral Ridge Winery in town, head out to Grateful Vineyard in nearby Parkdale, or simply pop into one of the tasting rooms like Evoke Winery and The Pines 1852 in downtown Hood River.
There are a few local operators that offer guided tours of the Hood River Oregon wineries, like this day trip from Portland which includes a hike, cycling between the vineyards with MountNBarrel, and even horseback riding among the vines with Double Mountain Horse Ranch.
READ MORE: Vintages and vines: The 10 best wineries in Hood River Oregon
Visit one of the museums in Hood River
The Western Antique Aeroplane & Automotive Museum (WAAAM) is a great spot for aviation buffs, as it boasts one of America's largest collections of antique planes and cars that are still in use. Marvel at the 1917 Curtiss JN-4D Jenny aircraft, and historic cars like a historic Ford Model T or Studebaker.
Across from the marina, the History Museum of Hood River County is a good place to brush up on the history of the area. There are a number of exhibitions and artifacts that are unique to the Gorge, including the first windsurfing board.
Go golfing in Hood River
Hit the fairways at one of the Hood River golf courses, which have great views of Mt Hood from the greens. There are two options in town, and both have 18 holes: Indian Creek Golf Course, or the Hood River Golf and Country Club. Phelps Creek Vineyards is conveniently located next to the clubhouse at the Hood River club, for those who want to enjoy some wine tasting after a round.
Columbia River Gorge tours and day trips
Finally, one of the best things to do in Hood River is to take advantage of the incredible adventures on its doorsteps, and head out to explore the Gorge. There are plenty of things to do on Mt. Hood in winter, like cross-country skiing, heading up to one of the ski resorts, tubing and sledding. In summer, grab a paddle and head up to a glistening alpine lake like Lost Lake, Trillium Lake or Laurance Lake.
To see the famous waterfalls in the Columbia River Gorge, take the historic highway to spots like Starvation Creek State Park, Latourell Falls and Multnomah Falls, or head up to Tamanawas Falls in the Mt Hood National Forest.
There are some great ones on the Washington side as well, like the impressive Lower Lewis River Falls which also has a swimming area, the three-tiered Falls Creek Falls and Panther Creek Falls.
PIN TO SHARE:
YOU MIGHT ALSO ENJOY: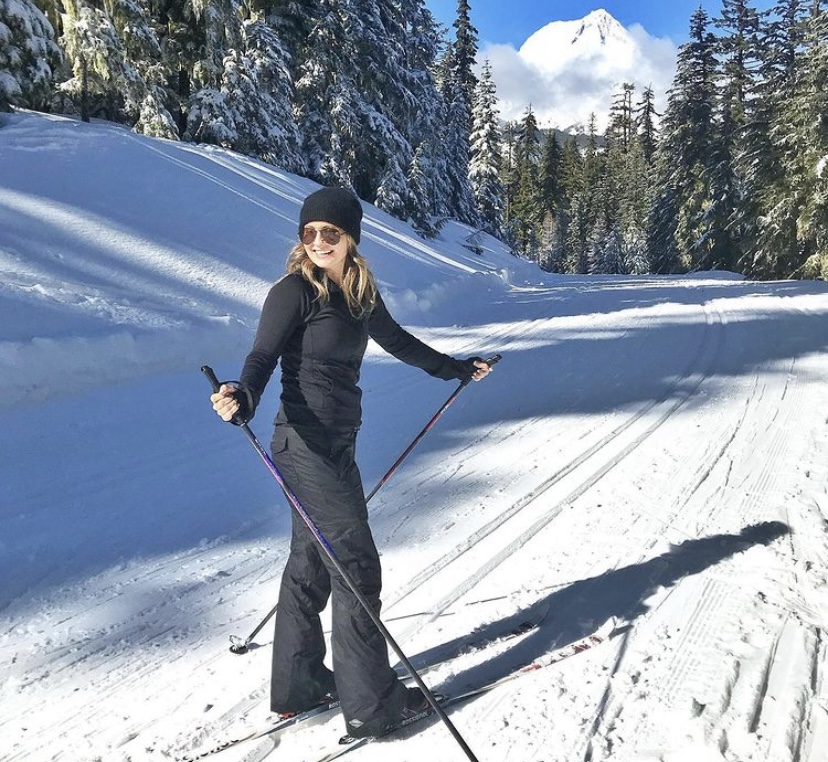 Tamara Elliott is the travel editor and founder of The Gorge Guide, which highlights the best experiences in the Columbia River Gorge. She's an award-winning writer based in Hood River, Oregon, who particularly loves the area wineries and waterfall hikes. Tamara is also the founder of Globe Guide, which offers savvy tips for exploring destinations around the world.