Java jolt: The best Hood River coffee shops
If you're in need of a caffeine kick before heading out for a day of adventures in the Columbia River Gorge, the Hood River coffee shops have you covered. Here are some of the best spots in town to get a java jolt.
Found in the heart of downtown Hood River, Doppio is the kind of place where you'll always run into someone you know. The industrial-styled cafe along Oak Street always seems to have a lineup, and there's plenty of space to sit both inside and out on their open-air patio.
Latte lovers will want to try adding their specialty syrups like lavender or infusing it with locally-made CBD, and Doppio has a fun rotation of seasonal drinks like a Bee Sting Latte made with honey, cinnamon and cayenne. The Northwest Chai is rightfully popular, and the avocado toast is a delish lunch option that's sure to please any discerning millennial.
This spot in the Heights district is a local favorite, which serves up a rotating menu of treats like marionberry cupcakes, melt-in-your-mouth chocolate chip cookies and cinnamon buns to enjoy with your steaming hot latte or Oregon Chai. Pine Street also makes bread and baguettes from scratch daily, and has a great lunch menu. The sun-soaked cafe has plenty of tables, free WiFi and space to spread out, which makes it a great option if you need to get some work done or meet up with a friend.
The Gorge Guide tip: The Baker's Sammies are a hot commodity here, with a delicious combo of salami and white cheese drizzled with oil over a fresh baguette. Grab one of these on the way out to the water or a hike, and it's the perfect thing to pack for a picnic since they keep well even in a backpack.
With a coffee shop, bar, restaurant and even a bike shop all under one roof, it's easy to see why KickStand is one of the most popular hangout spots in Hood River. Located just outside of downtown on State Street towards the Heights, it seems like there's always something going on here whether its a group of people meeting out front to head off on a ride, or a live music night on the huge outdoor patio lit by the glow of fireplaces.
KickStand is kid and dog-friendly, and little ones love noshing on the fresh donuts made each day. Breakfast, lunch and dinner are served here along with Oregon-favorite Stumptown coffee, and the fantastic menu emphasizes giving local ingredients an international twist, as inspired by the bike-loving owners' global travels.
The Gorge Guide tip: Come for the coffee, stay for cocktails: the bartenders mix a mean Old Fashioned.
 

View this post on Instagram

 
This Hood River coffee shop at the east end of downtown is a sister store to Doppio, and has been grinding its own coffee since 2009 to supply both cafes. They also make all of their pastries from scratch every morning, including sweets like cinnamon apple scones and peach spice coffee cake.
The lunch menu includes soups, sandwiches and salads, with most ingredients supplied by local farmers and businesses to support the community. Ground's beans are also organic, and can be purchased in the shop to take home for your own coffee maker.
STOKED calls themselves the 'official coffee of the outdoors', which they live up to with a variety of blends created in-house, a prime location along the waterfront and a team of pro-athlete ambassadors. All of their beans are roasted at their Hood River location, and are Certified Organic and Fair Trade whenever possible.
Along with latte art, creative concoctions and smoothies, STOKED also holds free public coffee cuppings on the first and third Wednesday of each month. One of their experienced roasters will teach you how to properly smell and taste things like sweetness and acidity in coffee, as you enjoy some samples.
As the name implies this is in fact a gardening center, which is what makes this Hood River coffee shop so awesome and unique. There's a cafe inside the historic home that houses the indoor plants, which serves soup, salads and sandwiches as well as fantastic desserts like key lime pie and berry crumbles to enjoy with coffee, tea and espresso.
Grab a table surrounded by the thick, lush plants which feels like you're in a secret garden, or get your coffee to-go and wander around the flowers and trees outside. In the winter months you can curl up with a cup of joe in front of the cozy fireplace–it's especially magical during Christmas when the whole place is decorated like a winter wonderland.
10 Speed Coffee
This spot is tucked away in a rather nondescript building in the Heights, and is a chill, quiet place to kick back and relax. There's easy parking right out front, and people especially love their cold brew coffees during the hot summer months.
PIN TO SHARE: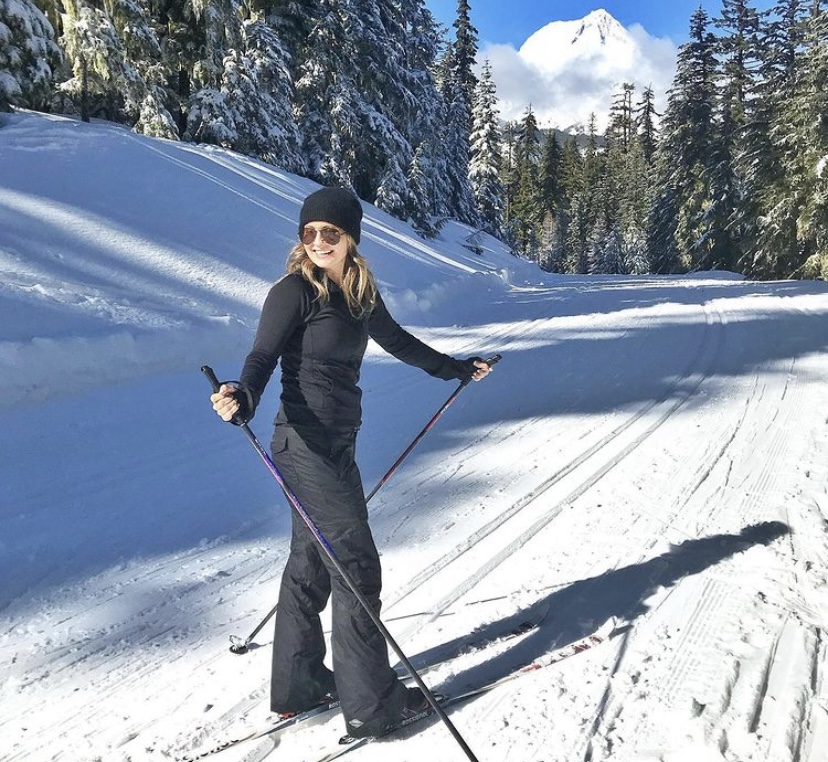 Tamara Elliott is the travel editor and founder of The Gorge Guide, which highlights the best experiences in the Columbia River Gorge. She's an award-winning writer based in Hood River, Oregon, who particularly loves the area wineries and waterfall hikes. Tamara is also the founder of Globe Guide, which offers savvy tips for exploring destinations around the world.