The scenic Rowena Crest viewpoint in Oregon's Columbia Gorge
If you're driving through Oregon's scenic Columbia River Gorge and want a quick nature fix, be sure to make a pit stop at the scenic Rowena Crest viewpoint.
Located near the town of Mosier between Hood River and The Dalles, this roadside pullout has one of the most incredible views of the Columbia Gorge. The wide, paved area is at the top of a high hill, which allows for spectacular panoramic views of the Columbia River, a hidden lake, the curved highway and arid cliffsides.
From here, you can see across the river to Washington and the Klickitat River Bridge near Lyle, as well as the peaks of Mount Hood and Mount Adams.
The highlight of a visit here is looking down at the historic highway, since its loops create a cool horseshoe shape that makes it one of the most photographed roads in Oregon. It's similar to Instagram-famous Horseshoe Bend in Arizona, but with no crowds!
Tom McCall Preserve
The Rowena Plateau trail marks the beginning of the Tom McCall Nature Preserve, where swaths of long, golden-yellow grass explode with vibrant wildflowers in the spring. It only takes about an hour to complete the out-and-back Tom McCall Point Trail, which makes this one of the more popular, easy hikes in the Gorge and a great option for young families.
The dirt trail has a moderate incline, and you'll admire sweeping views of the high desert as you continue up the hill. Be sure to look down occasionally though, as rattlesnakes love to sunbathe on the pathway! The exposed trail also has very little shade, and can get quite windy–this is the Columbia Gorge, after all.
The summit is actually just under two miles in; you can continue all the way up where you'll eventually hit a chain link fence, but this spot is where you'll find the best vantage point: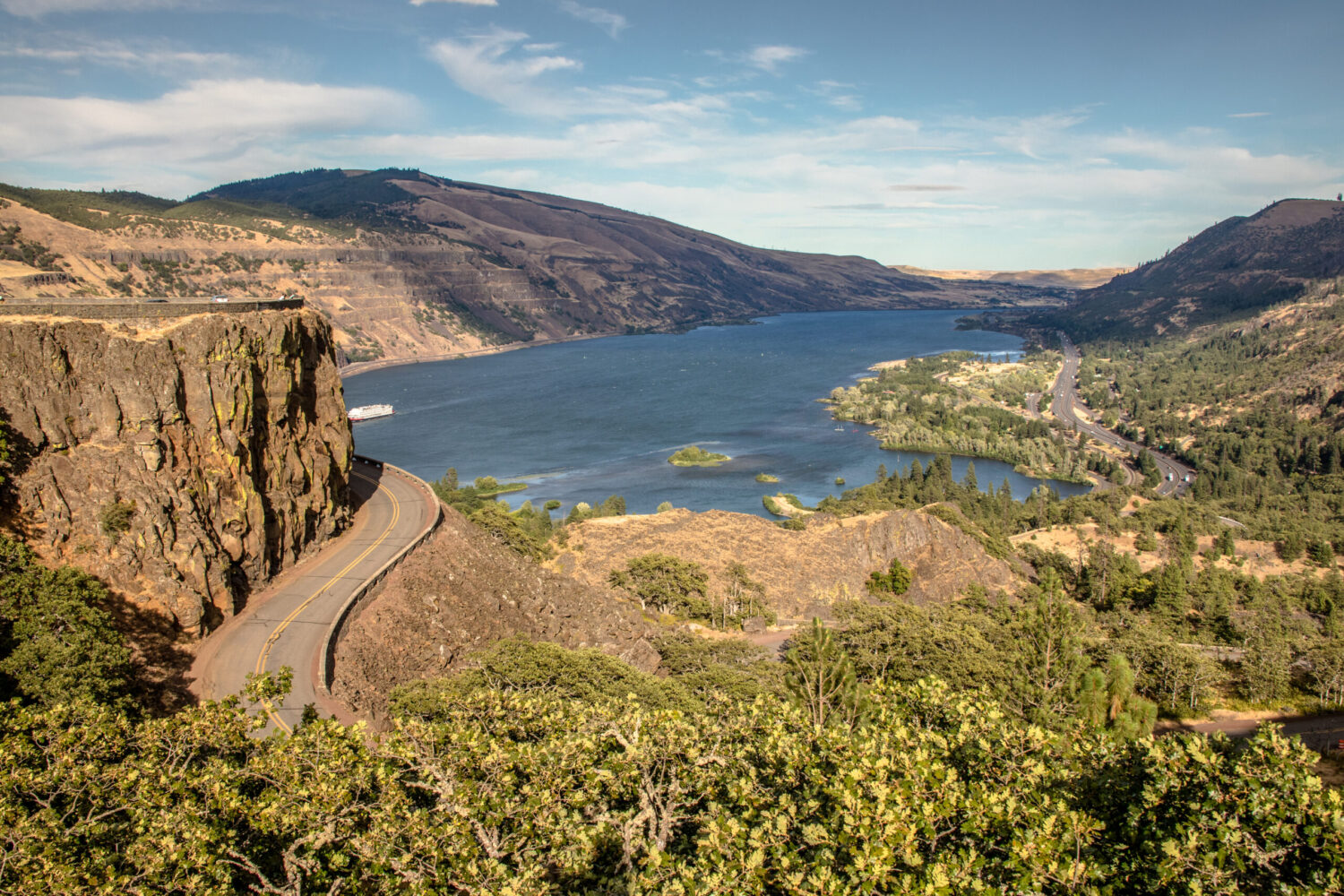 With its winning combination of killer views, the easy trails and being a quick drive from town, Rowena Crest is one of the best hikes near Hood River and a great way to enjoy a bird's-eye perspective of the Columbia River Gorge National Scenic Area.
Details for visiting Rowena Crest Oregon:
How to get there: Turn off I-84 at Mosier (exit 69) and follow the Historic Columbia River Highway for about seven miles until you see the "Rowena Crest" sign at the top of the road.
Time and distance: Budget about 15 minutes for a photo stop at the Rowena Crest viewpoint, and about two hours for the McCall Point Hike which is a moderate 4.2 mile trail.
When to go: The Rowena Crest viewpoint is open year round, and the hiking trails are open from May through October.
Need to know: No dogs or bikes are permitted in the nature preserve.
Pin to share: