The ultimate guide to the Mt Hood ski resorts
Majestic Mt Hood in northern Oregon's Cascade range is home to a thriving ski culture, with five different ski spots spread over 4,500 acres of skiable terrain. Whether you're looking for a big-mountain experience, a freestyle playground, night riding under the stars or gentle beginner slopes, hitting the hills is one of the best things to do in Oregon in winter.
Most of the hills are located near Government Camp which is a 90 minute drive from Portland, or the community of Parkdale which is half an hour from Hood River, making them quick to access from the Columbia River Gorge. From the top terrain parks to fun places to stay, here's the ultimate guide to the five Mt Hood ski resorts.
Mt Hood Meadows Ski Resort
With over 2,100 acres of terrain, Mt. Hood Meadows has the most skiable acres among the ski areas on Mt. Hood, and has a variety of runs for all skill levels. While most thrill-seekers head up during the day, Mt Hood Meadows night skiing is also popular and typically runs Wednesday through Sunday until 9 p.m.
During Meadows After Dark, 140 acres of night-lighted terrain are served by the Mt. Hood Express high-speed quad and other lifts.
Vista Ridge is the coolest green run on the mountain; on a clear day you can see so far south that Mt. Jefferson, the Three Sisters, and Broken Top all come into view.
On clear, low-wind days you can take Cascade to the highest lift-accessible point on the mountain at 7,300 feet, accessing intermediate and advanced terrain above the treeline. The top of Cascade feels like you're on top of the world, with panoramic views in every direction. It accesses the longest intermediate run on the mountain, and the top of Cascade to the bottom of Hood River Express is an incredible 2,777 vertical feet of skiing.
Catch first tracks in Heather Canyon, which is an advanced skier's dream since there's nothing quite like standing on Shooting Star ridge and looking down into the steep back bowls that seem to collect all the best powder. Hike up Super Bowl from Cascade for an additional 1,700 vertical feet of double black diamonds, to tackle the terrain in Heather Canyon which offers a true big-mountain skiing experience in the Pacific Northwest.
Along with the stellar skiing, Mount Hood Meadows has great dining options, including a couple of cafes and the Alpenstube at the base in the main lodge which serves a full menu plus Northwest microbrews and Oregon wines. The resort has the only mid-mountain beer hut on Mt. Hood called Mazot, where you can sip on a craft beer and enjoy the view from 6,000 feet up.
In 2021, Mt. Hood Meadows opened the brand new Sahale Lodge with a mezzanine and a heated deck, where you can enjoy the views while hanging around the outdoor fireplaces.
Timberline Lodge and Ski Area
The Timberline ski resort is the only ski area in all of North America that's open all 12 months of the year, with an inbounds elevation of 3,690 vertical feet which is the most of any ski area in the PNW.
Their downhill ski season typically runs from November through Memorial Day, and during good snow years Timberline is also open for fall skiing on weekends in September and October. During the summer months Palmer Express accesses higher elevations, including a terrain park where the pros head in the off-season.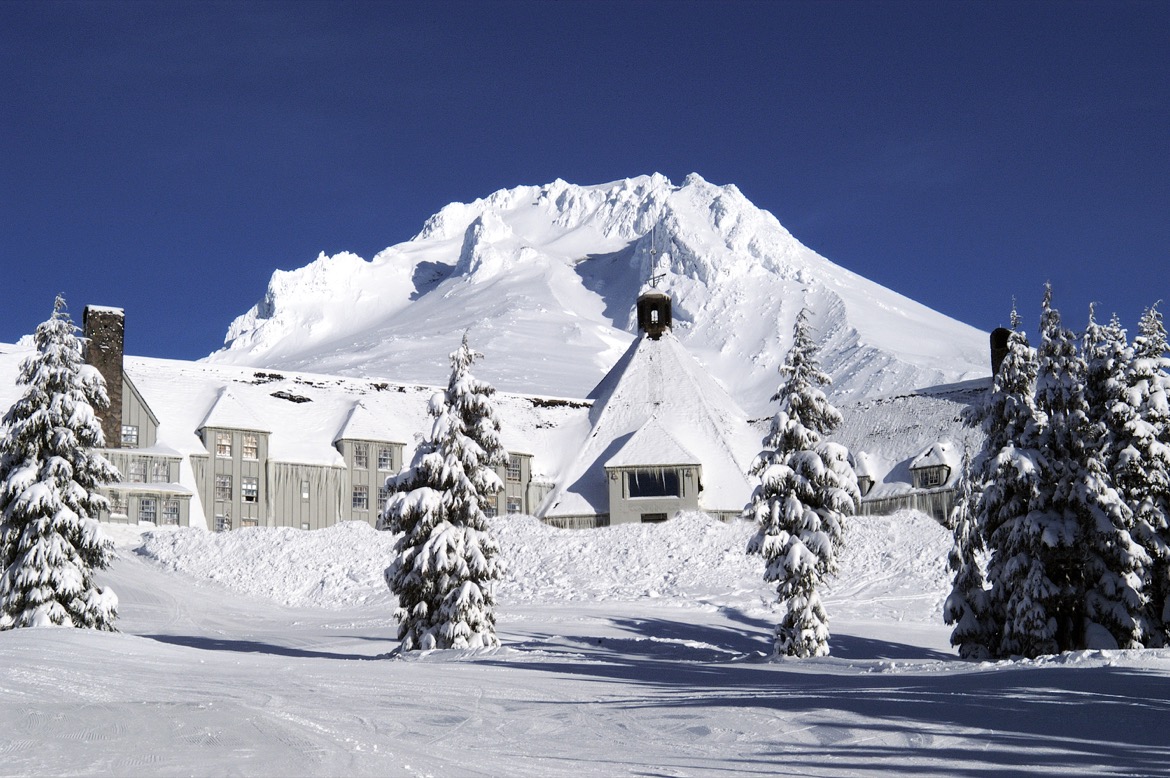 The Timberline ski area is one of the top Mt Hood ski resorts near Portland for freestyle skiers and snowboarders to train year round, with jibs, half pipes and jumps in the terrain parks and the Freestyle Training Center on the Palmer Snowfield which has handle town service and well designed features for all levels.
Young ones just learning the ropes can head to the Schoolyard Park, which has spread out, beginner features for budding park rats.
To really experience the epic Mt Hood snow, book a snowcat ride up to the top of Palmer and glide through the fresh powder at an elevation of 8,540 feet. Enjoy charcuterie and Oregon wine with your group, while soaking in phenomenal views of the surrounding Cascade Range.
A handful of dining options are available in the main lodge and on the hill, (don't miss the Snowcap Dream hot chocolate topped with toffee, whipped cream, chocolate and caramel sauce at Y'Bar), and you can stay overnight at Timberline Lodge or Silcox Hut to guarantee first tracks.
Keep an eye out for a couple of fluffy pups; since the historic lodge was first built in 1937, there have always been resident St. Bernards who love getting pets from guests and even go out on hikes with them.
Mt Hood Skibowl 
There are few things more magical than snow falling at night, silhouetted by lights as you speed down the mountain during an evening of night skiing on Mt. Hood.
Skibowl has the largest area for night skiing in the country which starts at 3:00pm every day during the ski season. Of the 69 day runs, 36 are lit up at night which means Mt. Hood Ski Bowl has the most lit black diamond runs in Oregon.
Skibowl dates back to 1928 which makes it one of America's oldest remaining ski resorts, and has steep slopes and runs for all ability levels. Aside from its 960 acres of terrain there's snow tubing on Mt Hood, snowmobile tours, terrain parks, snowshoeing trails and even horse drawn sleigh rides which makes it a fun spot for the whole family.
Cooper Spur Mountain Resort
With 50 acres of beginner and intermediate terrain and affordable lift tickets, the Cooper Spur ski area is the perfect place for families with young kids to learn to ride. Kids just learning have access to a rope tow, while those who are ready for the chairlift can take laps on Fir Street, the best green run on the mountain.
Parents and older siblings will love the 6 intermediate runs, and can step it up to Accelerator, the only black diamond run on the mountain. Cooper Spur also offers night skiing, rentals and lessons, as well as fun things to do on Mt Hood like cross-country skiing, tubing and snowshoeing.
Summit Ski Area
Summit Ski Area–which is Timberline's sister resort–is another one of the oldest ski areas in the Pacific Northwest and dates back to 1927. Its 3.5 miles of trails are a fun, affordable option to try skiing or snowboarding for the first time.
Summit prides itself on its affordable lift tickets and family-friendly nature with ticket prices starting at $28, making Mt Hood skiing accessible to everyone. There's also a tube park, and the hill is easily accessible from the east entrance of Government Camp.
Places to stay on Mt Hood
Government Camp Oregon: The ski town of Government Camp is the best place to stay for quick access to skiing on Mt Hood. Mt. Hood Skibowl offers luxury lodging on site at their sister property Collins Lake Resort, which is walking distance from the hill and has an outdoor pool. Another option is the Lodge at Government Camp, which has six Mt Hood condos with full kitchens, fireplaces and multiple bedrooms.
The Timberline Lodge: Stay high up on the mountain at the historic Timberline Lodge. Built in 1937, the lodge has hosted everyone from presidents like Theodore Roosevelt to movie filmings like The Shining. You'll feel the history surround you as you look out your window at the mountain or enjoy a cocktail by the fireplace.
For an adventurous stay, Timberline offers snowcat rides up to the Silcox Hut, a unique bed and breakfast located at 7,000 feet elevation and just steps away from the Palmer chairlift. It's the only ski-in, ski-out place to stay on Mt. Hood. Unlike most mountain huts, the Silcox Hut is staffed with a host and meals are included in your stay.
The Cooper Spur cabins: Cooper Spur Resort offers lodging just 1.5 miles from their ski area, with both luxury and more affordable options. The resort has a restaurant on site, as well as a tavern where guests can enjoy apres ski.
PIN TO SHARE:
YOU MIGHT ALSO ENJOY:
Sharon Saltoon is a Columbia River Gorge transplant who loves all things outdoors. When she's not writing for outdoor publications, you can find her skiing on Mt. Hood, exploring local trails on her mountain bike, and paddling the White Salmon River.