What to do in Smith Rock State Park, Oregon
Thanks to its impressive red cliff sides, winding river and sweeping views, Smith Rock State Park in central Oregon is a fantastic destination in all seasons.
Located about two hours from the Columbia River Gorge, a visit to these dramatic canyons near Bend is a great day trip or weekend getaway, with activities like paddling, hiking, climbing and even horseback riding.
The pristine area was formed by a pair of volcanic events, starting with ash that blanketed the landscape and hardened into rock known as Smith Rock tuff. Wind and water erosion formed the spectacular spires, then fluid basalt flowed from other volcanic eruptions and pushed the Crooked River up to the base of Smith Rock. Today, the other-wordly landscapes are beloved by photographers and adventure seekers alike.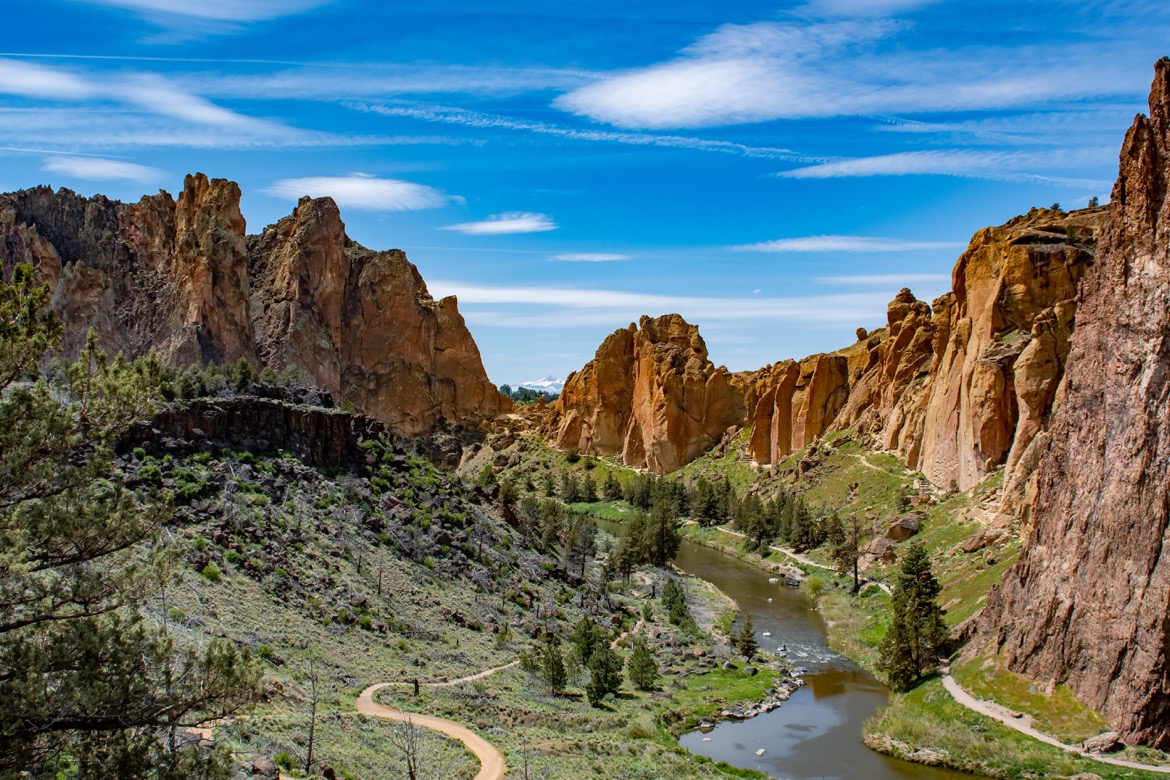 What to do at Smith Rock State Park Oregon
There are a number of ways to explore the Smith Rock State Park trails, including trail running and mountain biking. Another fun way to see the park is on horseback, and trail riding is permitted along certain parts of the Homestead, River, Canyon and Wolf Tree trails.
There are plenty of scenic lookouts around the rim of the canyon, so even if you're short on time or don't want to hike down toward the river it's easy to enjoy some of the park's best vantage points. Interpretive signs are found along some of the dusty trails near the parking lot, which outline Smith Rock's history as well as notable facts like how it's been used as a filming location for Hollywood hits like Homeward Bound and the movie Wild starring Reese Witherspoon.
Smith Rock State Park climbing
Adrenaline-seekers love scaling the basalt columns, and the park is actually known as the birthplace of U.S. sport climbing. Since its inception in the '80s, nearly 2,000 routes have been mapped out throughout Smith Rock, and daredevils can also shed their gear and try bouldering on one of 300 lines. One of the hardest, most iconic climbs is Monkey Face, which is one of the best known landmarks in the park as it juts out of the arid landscape.
Local companies including Smith Rock Climbing Guides or Oregon Adventure Guides provide equipment and expert instruction to newbie climbers.
PIN TO SHARE:
Smith Rock State Park hiking
There's a huge variety of trails winding through the park to suit all ability levels and time constraints, with more than a dozen marked pathways linking 650 acres including some that pass over the ancient lava flows.
Some of the most popular Smith Rock State Park hikes are:
Misery Ridge: A number of trails lead to Misery Ridge, which is one of the best known spots in Smith Rock State Park. It's a windy, steep climb up, but the effort is worth it for the unforgettable views from the top of the 3,360 foot summit.
Canyon Trail: A good, quick option, this mild 1.5 mile pathway starts at the welcome centre at the parking lot and heads down to the river. There are a series of lookout points en route, including ones looking out to Asterisk Pass which has a boulder that looks like Woodstock from the Snoopy comics, and the Phoenix Buttress which is popular with climbers.
Summit Loop: This 7.3 mile loop passes by some of the park's best spots, including Misery Ridge, Monkey Face, the Crooked River and the Monument which is a nesting area for golden eagles.
Rim Rock Trail: This half-mile stroll circles the ridge, with jaw-dropping views from a number of different angles. The flat, paved pathway passes a kid's climbing wall and picnic areas, making this a good choice for families with young kids.
Where is Smith Rock State Park
Smith Rock is just outside the town of Terrebonne, in Central Oregon's High Desert. If time allows, spend time in Bend, head to the charming, western-themed town of Sisters, then do the 40 minute drive to Smith Rock. There's also a cycling route called the Three Sisters Scenic Bikeway which has views of the Cascades and Deschutes River.
It takes about three hours to drive to Smith Rock from popular spots in Oregon like Portland, Hood River and Crater Lake. Be sure to purchase a $5 day pass in the parking lot at the entrance upon arrival.
Where to stay near Smith Rock
The only way to stay within the park is to pitch a tent at one of the walk-in only Smith Rock State Park camping areas, which are located near the main entrance. If you've got an RV or are towing a trailer, park at one of the more accessible campgrounds nearby.
Some great hotels nearby are:
Brasada Ranch: This luxe getaway is just 30 minutes rom Smith Rock, and the kind of place where you'll want to settle in and stay a while. Accommodations at Brasada Ranch are a mix of private rooms or entire houses complete with living areas, spacious suites and private hot tubs, which makes it great for large groups and families. The property has plenty to explore, including a pristine golf course, multiple pools and hot tubs, an activity centre and restaurants.
FivePine Lodge & Spa: Located in Sisters, this gorgeous lodge is surrounded by thick forests and has private cabins, soaking tubs and fireplaces perfect for unwinding after a day of adventures. Guests love the personable staff, and special touches like a complimentary bottle of wine on arrival.
SCP Redmond: Bright, spacious rooms, stone fireplaces, and amenities like a yoga room and old school records are some of the fun finds at this property in the heart of nearby Redmond. A tree is planted to offset the carbon footprint of each guest, and there's even free beer and coffee at check-in.
YOU MIGHT ALSO ENJOY: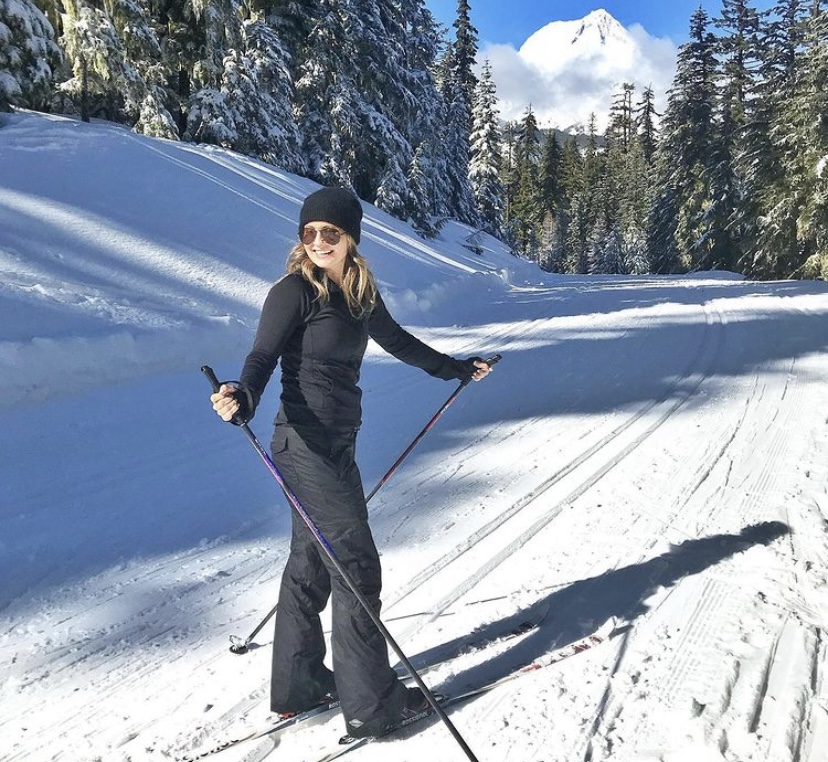 Tamara Elliott is the travel editor and founder of The Gorge Guide, which highlights the best experiences in the Columbia River Gorge. She's an award-winning writer based in Hood River, Oregon, who particularly loves the area wineries and waterfall hikes. Tamara is also the founder of Globe Guide, which offers savvy tips for exploring destinations around the world.