Fun things to do in Trout Lake WA
With jaw-dropping views of Mt. Adams, quirky accommodation options and plenty of outdoor adventures on its doorstep, the community of Trout Lake in Washington is a great getaway in the Gorge.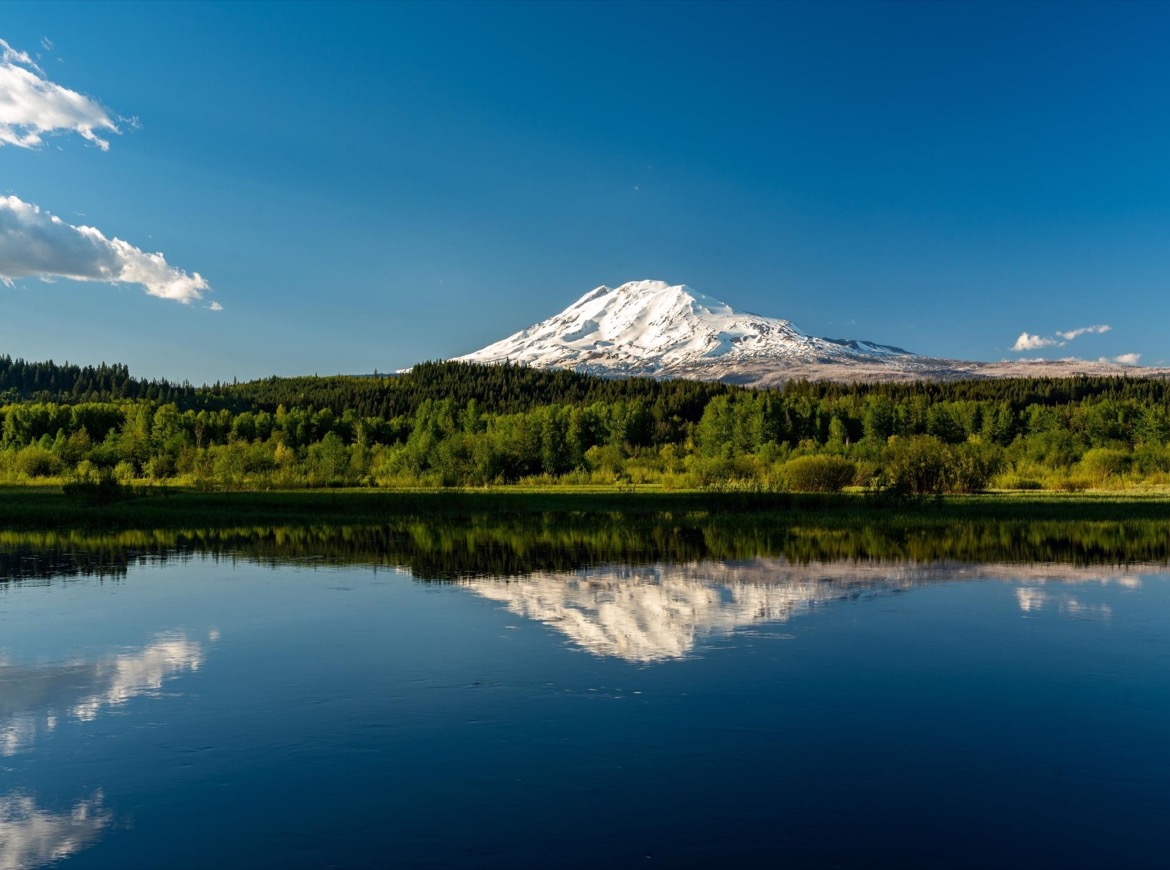 First things first: Trout Lake is actually not a lake; rather, the tiny town is the gateway to the Gifford Pinchot National Forest which has fantastic hiking trails, ice caves, soaring peaks and waterfalls. Head out on a scenic drive to enjoy the lush green valley, tackle rapids on a whitewater rafting trip, or simply unwind at a glamping resort or even a Buddhist temple.
Here are some of the best things to do in Trout Lake WA.
Hike to Langfield Falls
The trailhead for Langfield Falls starts about 25 minutes northwest of Trout Lake, and it's an easy five minute walk down a well-marked dirt trail to reach the falls which makes this a great option for families.
The waterfall is nearly 60 feet high and can be observed from above as well as below, where they rush out and pool about 75 feet wide. There are lots of boulders and fallen logs to climb over and explore, and you can cool off in the water on a hot summer day.
RELATED: 7 amazing Washington state waterfalls in the Columbia River Gorge
Drink a huckleberry milkshake
Huckleberries are a staple in the PNW, and the best way to enjoy them is by indulging in a tasty treat. There's a gas station, burger joint and cafe in town called Andy's Valley Service found along Highway 141, where you can sip a huckleberry milkshake while relaxing in the shaded picnic area out back.
Explore the Guler Ice Caves or Cheese Cave
Beat the heat by heading down into one of the Trout Lake ice caves found in the Gifford Pinchot National Forest. The Guler Ice Caves are popular, and part of a two-thousand-foot lava tube in the Cascade Range. The 650 foot long cavern was discovered more than a century ago, and has four sections separated by three collapsed sinks.
Head down a 20-foot staircase into the pitch-black cave, and use a flashlight to see frozen stalactites and stalagmites as you explore the twists and turns of this natural wonder.
Another option is the Cheese Caves, which were once used as a natural refrigerator by the Guler Cheese company to store and age their products. Head down a wooden ladder, and find yourself swallowed up by the wide, cavernous walls covered in flow ledges and lavacicles. It only takes about 10 minutes to get to the other side, where there's a large, steel staircase to the exit.
READ MORE: Exploring the Cheese Cave in Trout Lake, Washington
Admire the Natural Bridges
Just past the Guler Ice Caves, there's a parking lot and trail that leads to the Natural Bridges which were formed by a partially collapsed lava tube. The destruction created a small, mile-long canyon in a serene forest, with two big rock archways that were left standing.
Vegetation has since grown over them, turning them into bridges you can walk right on top of. The Natural Bridges are another great option for families, since it only takes a couple of minutes to walk down a flat pathway from the parking lot to the arches.
Whitewater raft over Husum Falls
The scenic White Salmon River is known for its narrow cliffs and gem-toned glacial water that flows down from Mt. Adams, and winds past Trout Lake. A thrilling way to experience it is on a whitewater rafting trip from nearby BZ Corner toward Husum Falls, which is the tallest commercially rafted waterfall route in the country.
Book the trip with an outfitter like Zoller's, River Drifters or Wet Planet, and spend the next few hours tackling Class III-IV rapids rapids and cliff-jumping before reaching the falls. Navigating the 12-foot drop that ends up in a boulder garden and is guaranteed to submerge you is completely optional, yet guaranteed to be the highlight of your trip if you can work up the courage to go over.
Enjoy the view of Mt Adams
Mt Adams is the second highest peak in the northwest after Mt. Rainier, towering 12,276 feet high. That means there are plenty of places around Trout Lake where you can enjoy the view, including along Lake Road at the entrance to the Trout Lake Natural Area Preserve which is also a great picnic, SUP or kayaking spot.
A great hike is Sleeping Beauty, which has sweeping views of Mt St Helens and Mt Rainier as you make your way 1,500 feet up to a former fire lookout. The three-mile round trip climb is tough, but worth it for the unbeatable views of the surrounding valley, especially in spring when wildflowers are blooming.
Climb through the Big Lava Bed
About 40 minutes from Trout Lake toward Goose Lake lies the Big Lava Bed, a 12,500 acre crater with plenty of interesting formations like crevasses, small caves and high rock piles. A hill rises 800 feet from the northern section, while lodgepole pines, mosses and a grassy meadow cover parts of the crater.
While this section of the Gifford Pinchot National Forest is considered one of the top landmarks in southwest Washington, it's important to note it's easy to get turned around here so be sure to pay close attention to landmarks.
Trout Lake WA lodging
There are lots of fun places to stay in and around Trout Lake, including:
Trout Lake Abbey: Get zen at the Trout Lake Abbey, a farm-turned-B&B at the base of Mt. Adams. The sanctuary blends the spiritual beliefs of a Buddhist monk and a Druid priest, and hosts retreats as well as activities like yoga, Chinese medicine and qigong. Walk through the lavender labyrinth, explore the certified organic farm, or curl up with a good book by the tranquil pond. The bed and breakfast has five private rooms and a hostel.
Cave Creek Farm: This charming spot in Trout Lake is what Pinterest dreams are made of, from the fields bursting with wildflowers that lead to a labyrinth, to the barn-style pavilion that hosts weddings, to the twinkle lights illuminating the long outdoor table for twilight dinners. Stay overnight in one of the white canvas glamping tents, or reserve the property's entire two-storey home that has a kitchen, living room, multiple bedrooms and bathrooms.
Spend your day exploring the working farm, hideaway in the wooden teepee or soak in the wooden hot tub.
Getaway Mount Adams: Dozens of cute, tiny cabins are scattered around this wooded acreage in Glenwood, which is about 20 minutes from Trout Lake under the shadow of Mt Adams. The perfect blend of camping and comfort, homes fit up to four people and come with a bathroom, kitchenette, chairs, picnic tables and fire pit.
Enjoy the view of the surrounding forest from the huge floor-to-ceiling windows, and you'll feel a world away from it all with all the luxuries of home.
Trout Lake Valley Inn: This cozy, family-owned lodge in Trout Lake features rustic, hand-crafted log furniture, serene views and complimentary breakfast. There's also a hot tub on site, and easy access to all of the activities on Mt. Adams.
Trout Lake WA camping
Some of the best campgrounds near Trout Lake are found in Gifford Pinchot National Forest, with some taking advance reservations while others are first-come, first-serve. It's important to note none of the sites have electrical hookups, showers or RV holding tank dump stations. The ones closest to town are:
Trout Creek Campground
Peterson Prairie Campground
Goose Lake campground
Oklahoma campground.
Dispersed camping is legal throughout most of the forest. Be sure to set up your tent at least 100 feet away from creeks, rivers and lakes, out of view from major trails when possible, and pack everything in and out.
PIN TO SHARE:
YOU MIGHT ALSO ENJOY: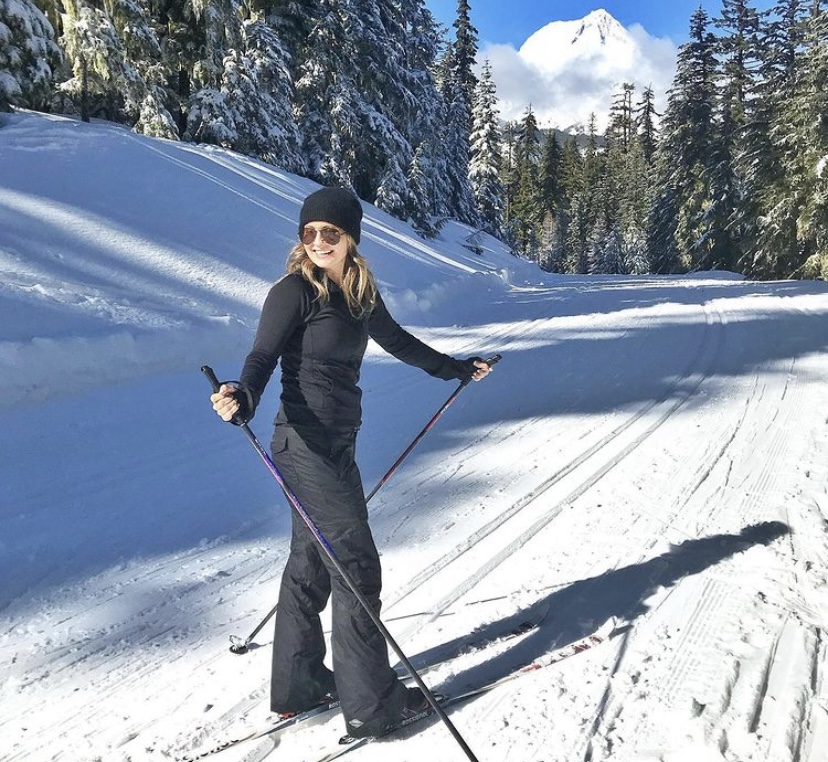 Tamara Elliott is the travel editor and founder of The Gorge Guide, which highlights the best experiences in the Columbia River Gorge. She's an award-winning writer based in Hood River, Oregon, who particularly loves the area wineries and waterfall hikes. Tamara is also the founder of Globe Guide, which offers savvy tips for exploring destinations around the world.